Gemini Aerating Fountains Transform Medical Complex
Otterbine ensured the health of artificial cement ponds and transformed the space into a calming escape for patients.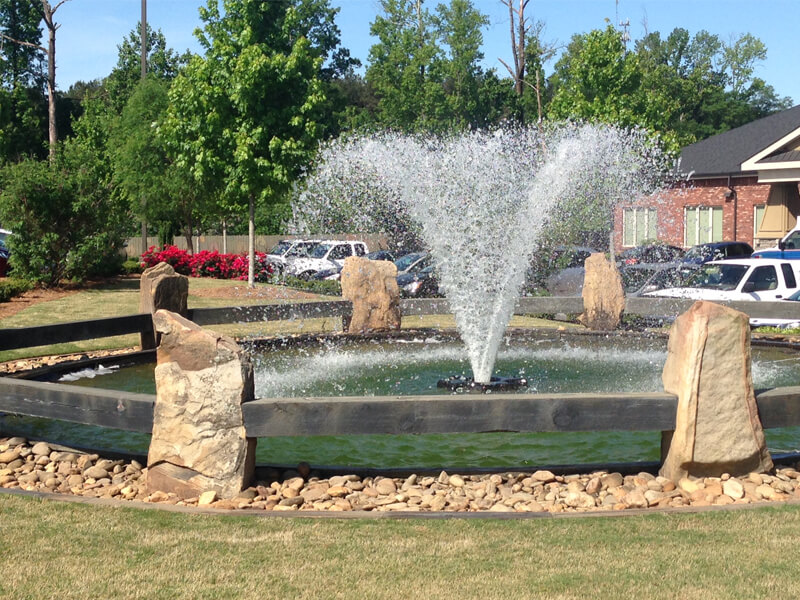 Situation: Georgian developer Tim Burgess turned to Otterbine in hopes of putting some finishing touches on the 316 Professional Quarter (a medical community). He wanted to keep artificial ponds healthy all while transforming the space into one patients could enjoy.
Solution: Burgess purchased two 3HP Geminis as well as a 10HP Mystic to keep his cement ponds running! The result was a beautiful calming area where patrons can take a moment to relax. He also has plans to add another unit once the medical complex's surgical suite is complete. The suite will feature a reflection pool built especially for a 5HP Tristar with LED lights.
Background: Over 42 offices now get to enjoy beautiful water features. The 316 Professional Quarter houses various healthcare specialties including, but not limited to: OBGYNs, pediatrics, dermatology, dentistry, physical therapy, sports medicine and pain management! Patients as well as providers now have a chance to enjoy an attractive/calming space between treatments. Another great success story from Otterbine where quality, versatility and performance create continued opportunities!
Want to see more?
Visit our Featured Installations page for more examples of our work.