High Volumes Fix Effluent Problems in Sun City Summerlin, NV
Otterbine's High Volume units helped this club transition from using potable water to effluence in their irrigation practices. We also ensured that their water met the strict standards set by the Nevada Department of Environmental Protection.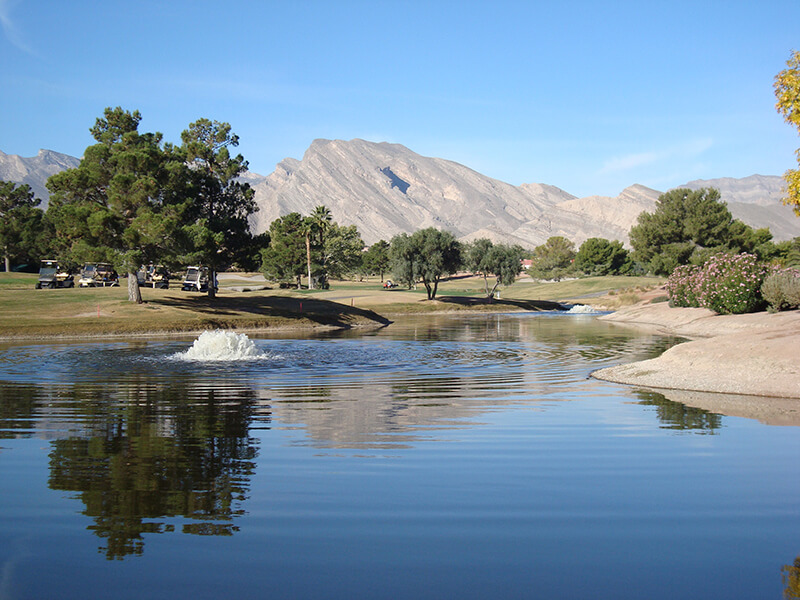 Situation: Sun City Summerlin houses three prominent golf clubs Palm Valley, High Falls and Eagle Crest. All of these clubs faced problems due to poorly constructed ponds and a switch from potable to effluent water in their irrigation practices. These issues ranged from nutrient loading to odors.
Solution: Brain Bagwell, the Director of Golf Maintenance for all three clubs worked with Otterbine to find a solution that would meet every requirement/regulation. Since the Nevada Department of Environmental Protection (NDEP) demanded the switch to preserve water for the ever growing population they were watching closely to make sure all the safety guidelines were met to protect that growing population as well. Bagwell worked with Otterbine to install over 16 High Volume units, which addressed the odor, nutrient loading and any other problems associated with the effluence.
Background: This particular city deals with water from over 8,000 homes, nine golf courses and a booming commercial enterprise. When the Las Vegas water authority saw a problem with the supply of potable water not meeting demand they quickly decided golf courses would be the first to adapt to use of effluent water. Treatment plans were put in place, which just didn't quite fit the bill but Bagwall reached out to an Otterbine distributor. With our help Palm Valley, High Falls and Eagle crest now have healthy odor free waters!
Want to see more?
Visit our Featured Installations page for more examples of our work.