Otterbine Fountain-Glo LED's Light Up Victory Junction Lake
Otterbine teamed up with Victory Junction in order to create beautiful water features. Our high voltage lights ensure that our units light up the night for all campers to enjoy!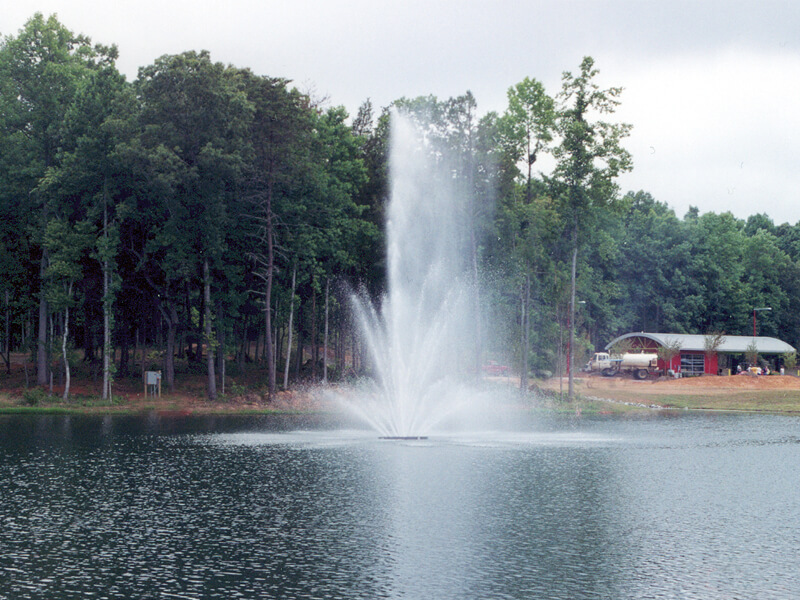 Situation: The Petty family wanted to add a little pizzazz and keep their seven-acre lake running in tip-top shape for their Victory Junction campers. The camp caters to children who are too ill to attend regular summer camps.
Solution: With the help of our distributors at Smith Turf and Irrigation we were able to come through and set them up with four Otterbine units before their grand opening! Three 5HP Tristar Aerating Fountains as well as one 15HP Giant Fountain liven up the lake. All the units included High Voltage lights, so the campers can enjoy the fountains at night!
Background: Victory Junction Gang Camp was founded in honor of the late Adam Petty (son of Kyle Petty and grandson of Richard Petty). Adam's work with Sprint enabled him to aid in the creation of technology that allowed bed-ridden children to communicate from one hospital to another. He hoped to expand on this work and create a place where families with ill children could come and enjoy an expense free retreat. Hats off to the Petty family and thanks to our friends at Smith Turf and Irrigation for bringing us in on this project. It's an honor to be a part of such an amazing project.
Want to see more?
Visit our Featured Installations page for more examples of our work.