Otterbine Products Work in Tandem to Address Nutrient Loading
A 5HP Gemini and High Volume Units eliminated fish kills and addressed the severe nutrient loading in this 5 acre (2 hectare) lake. Park-goers can now enjoy fishing, pleasant scenery and winter sports!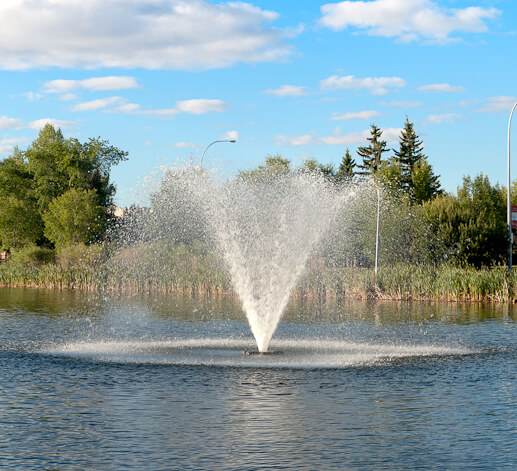 Situation: Kinsmen Park Lake experienced problems with fish kills and severe nutrient loading.
Solution: Kinsmen Park initially purchased a 5HP Gemini, however; the oxygen transfer rates weren't high enough to combat the nutrient loading that occurred. The park decided to add three High Volume units which eliminated the problem. No more nasty odors or fish kills for this lake!
Background: The nutrient loading in this lake escalated to the point where residents actually had to cut holes in the ice during the winter. This allowed the built up gases to vent, however; it wasn't exactly a fun time for the people cutting the holes and it didn't prevent fish kills from occurring. Kinsmen Park contacted Otterbine and we helped them develop a new game plan. Now the lake is healthier than ever!
Want to see more?
Visit our Featured Installations page for more examples of our work.