Lighting & Accessories
Power Control Center
Otterbine is dedicated to offering only the safest and most reliable products, the quality and integrity of our power control centers is an integral part of honoring our commitment. All Otterbine power control centers, units and cables are safety tested to the strictest standards, and are listed with ETL, ETL-C and CE.
Fiberglass Enclosure
Our standard cabinet is a non-corrosive, durable NEMA 4X fiberglass enclosure.
State of the Art Components
Surge/lightning arrestor, digital timer, manual-off-auto switch, motor controller, external reset and people protection GFCI are all provided in our power control centers (GFCI not provided on 460V systems, optional EPD available).
Standard Equipment
Power control centers come standard with all North American packages.
Comprehensive Warranty
All-inclusive warranty on panel and controls (warranty period correlates to the product line associated with power control center).
Custom Controls
As a certified panel building workshop Otterbine offers custom power control center options that can control multiple systems in one panel, in addition to a variety of other options.
Panel Options
Add convenience or increase efficiency by including additional components such as wind controls, photocells, light sets, phase monitors, step down transformers, and more.
Safety Listed & Protected
All components are U.L. listed and CSA certified. Aerator/Fountain, PCC and all components are ETL and ETL-C listed and approved as a complete package.
Unit Construction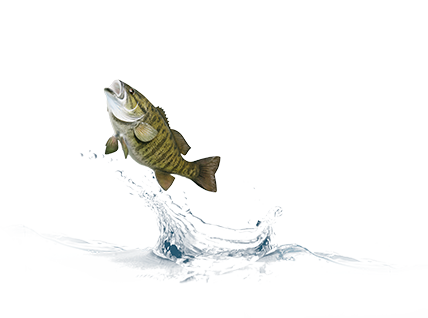 shield icon
Corrosion Resistant
All standard enclosures are manufactured from durable fiberglass and are NEMA 4X rated and resist deterioration in corrosive environments.
hand icon
Convenient
Standard panels for 1HP-5HP systems incorporate an internal "swing panel" for quick and easy access to more commonly used components such as the timer and GFCI.
tools icon
Customizable
Built to order, these panels can be customized to include multiple units and other controls to meet the needs of your installation.
Unit Illustration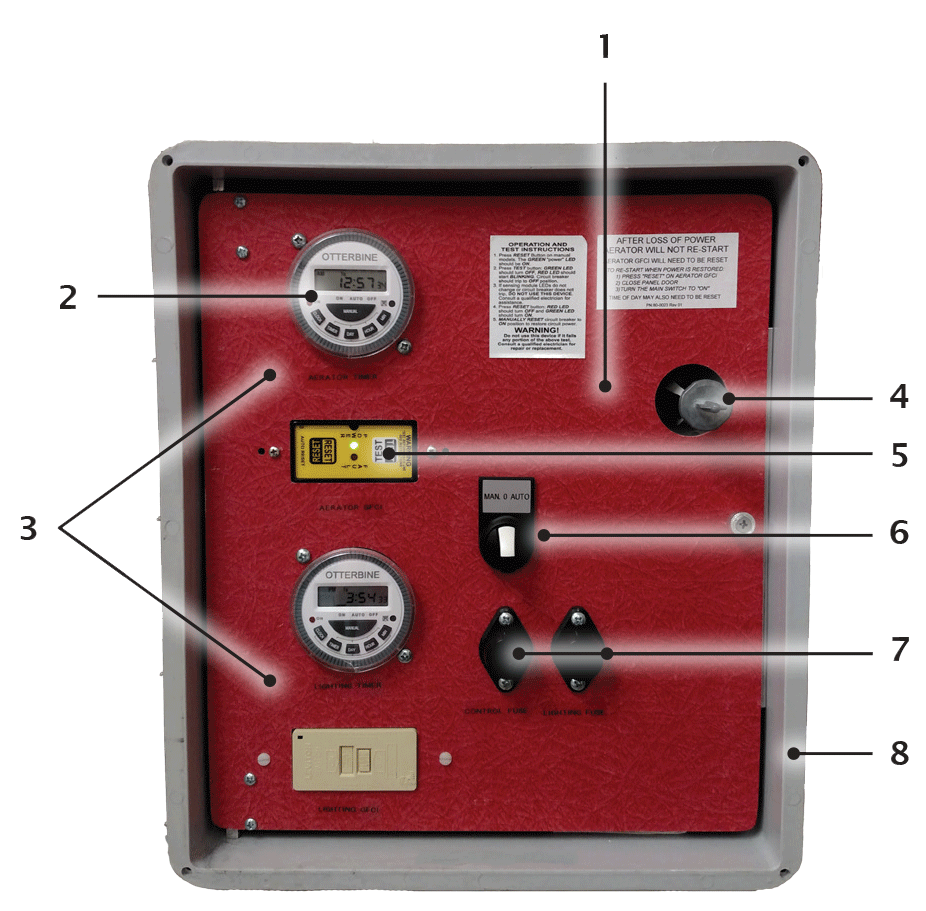 1

Swing panel offers convenience to regularly accessed items; while wiring and other components can be accessed behind on the sub-panel.*

2

24/7 digital timers are standard with Otterbine's 1HP-25HP aerator/fountain power control centers.

3

Standard enclosures can include controls for both unit and lights. (as seen here)*

4

Surface mounted disconnect switch can quickly cut power to all equipment in the water (switch controller rod seen here).
5

Indicator light on GFCI alerts you if an interruption of power has occurred and a reset is required.

6

Manual-Off-Auto switch allows you to select the operating mode.

7

Control and lighting circuit fuses are easily accessed for replacement as needed.

8

Durable fiberglass enclosure is NEMA 4X rated and can be used in corrosive environments (stainless steel enclosures are available).
*True for most aerator/fountain system PCC's; exceptions may occur for 1/2HP
panels, 460V systems and Giant Fountains.
Installation
Having operational electricity is necessary before flotation and start-up of any aeration system, and a power control center (PCC) will be needed. A certified electrician will be required for the installation of the electrical panels, and may become a scheduling consideration throughout the installation process. Be sure to follow both local and national electrical codes during installation.
1

Determine Panel Location PCC should be installed above high water line (HWL) and within line of site of aerator/fountain. Consider aesthetics of landscape when choosing location.

2

Tighten Connections Insure all component connections are tight, some may become loose during transit.

3

Connect Power A certified electrician should perform this step, wiring schematics are provided with all new products.
Maintenance
The Power Control Center (PCC) require minimal annual maintenance. Simply be sure to keep the inside of the panel clean and dry, and on a regular basis test the GFCI or EPD for proper function.
Need More Technical Information?