Articles and Press
Basics of Selecting & Installing Pond Aeration Systems
Whether looking for a water quality management solution or simply aesthetic enhancement there are three basic types of pond/lake aerators to consider: surface spray aerators, air diffused systems and horizontal aspirators or mixers. Each type has unique difference as well as efficiencies, which may be utilized in a variety of ways to achieve the maximum benefit! Below are some basic guidelines to take into account when selecting and installing an aeration system.
Basics of Selecting & Installing Pond Aeration Systems
Selecting an Aeration System: The size, shape and depth of a pond should dictate the type of aeration system, or combination of systems to be used; keep in mind when water quality management is an objective the recommend sizing is 2HP per surface acre. Visit the following link for more information on Pond Sizing and Unit Placement.
Surface Spray (Floating) Aeration Systems: Ponds less than 15ft (4.57m) deep, or whenever a spray fountain effect is desired.
Products | Aerating Fountains | Giant Fountains
Diffused Aeration Systems: Ponds 15ft (4.57m) and greater in depth, as well as when no surface spray is desired. (Note: Efficiency is lost when used in ponds less than 15ft (4.57m) , but may be remedied with additional diffuser manifolds placed throughout the pond. These systems are not recommended for ponds less than 8ft or 2.43m.) Visit the following link for more information on Efficiency at Depth. Products | Diffused Aeration
Mixers and Aspirators: In ponds less than 9ft (2.74m) deep where lateral movement is dictated, or no surface spray is desired. Products | Mixers | Aspirators | High Volume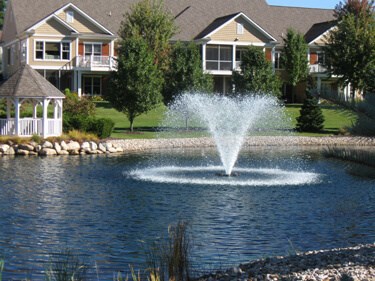 Electrical Requirements
In order to operate Otterbine systems efficiently one needs to keep a few things in mind; what type of power is available (single phase or three phase), how much of that power is available, how close is the pond/lake to the power source and is there anything else using that power source (ex: irrigation or lighting)? Otterbine's factory trained distributors are available worldwide and can provide free site analysis and assistance with deciding on the various options for a specific project. Make sure to review what electrical codes should be followed during the installation process. Finally, consider trenching wires in conduit vs. direct burial so they can be easily accessed in the future if need be.
Visit the following link for more information on Maximum Cable Runs associated with unit electrical specifications (Learn more about single phase & three phase power.)
Having operating electricity is necessary before unit installation and start-up of any aeration system, for security and mechanical consideration, and may become a scheduling consideration that needs attention. A certified electrician may also be required during the installation.
System Installation
There are two ways of securing most units into position, anchoring (to the pond bottom) and mooring (to the pond's edges, either above or beneath the waterline). Methods of securing and quality of materials used may impact the security, ease of service and safety. All these factors need to be included during the planning process. Tools and materials required can include: a shovel (to bury/trench cable), conduit, stainless steel cable or nylon rope, cinder blocks, boat (when anchoring) and rebar or duckbill anchors (when mooring). Diffused Air Systems do not require anchoring or mooring, but a boat is often required during installation.
Intensive landscaping around the pond such as retaining walls, waterfalls, and planting beds could affect the installation process, in addition to the future access for service or maintenance. Further coordination may be needed between the aeration installer and/or irrigation contractor in these instances as well.
Have a Question?
We have an answer! One of our factory trained specialists are here to help with whatever you may need.
System selection, connecting with a local dealer - just let us know and we can help!