Articles and Press
Distributor of the Year 2017: Aquatic Control
Otterbine names regional Lake Management powerhouse Aquatic Control their Distributor of the Year. With a partnership that spans over three decades Otterbine's honored to work beside them.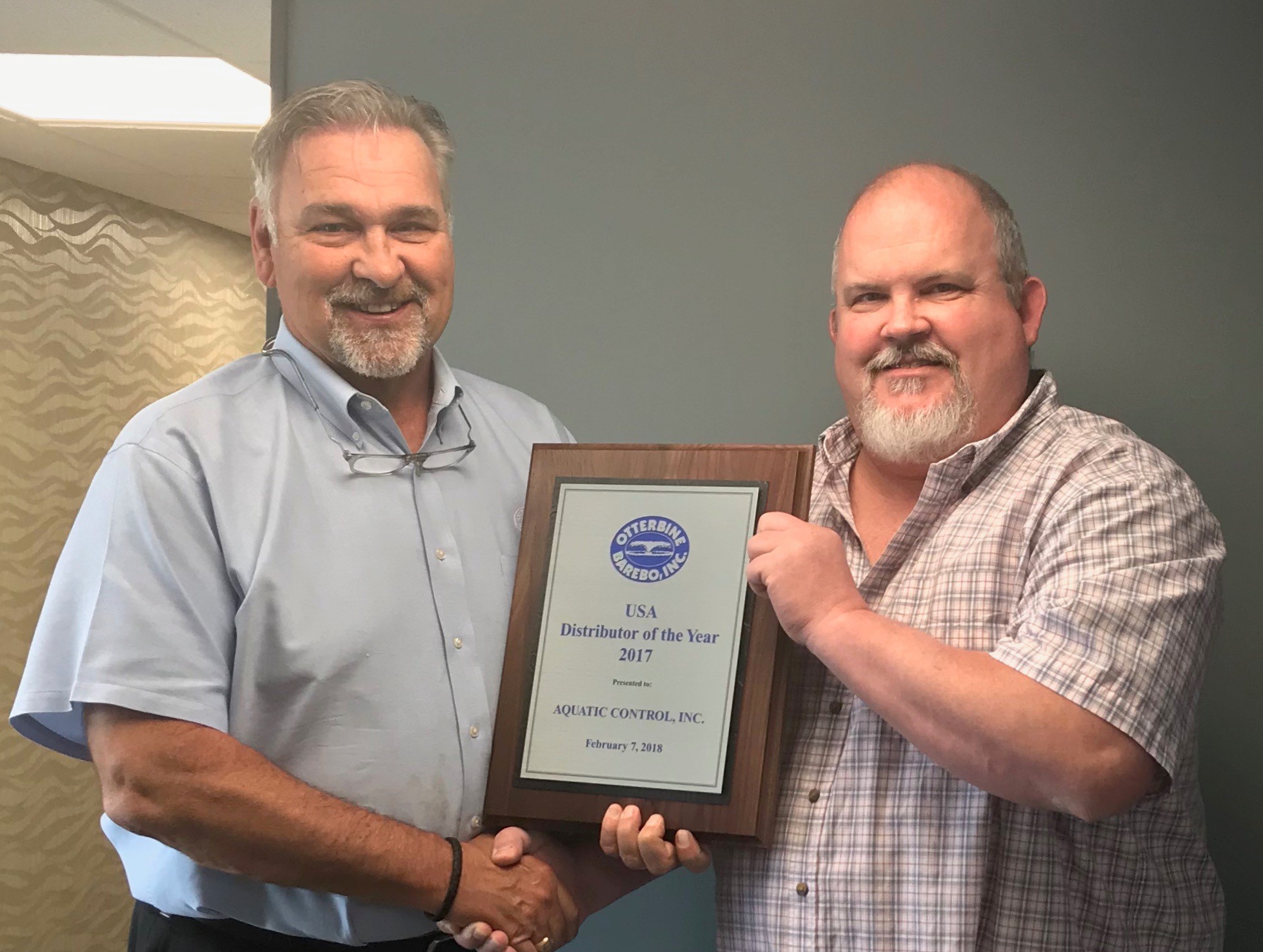 Otterbine is proud to announce that Aquatic Control has been named the 2017 Otterbine Distributor of the Year. Not only are they phenomenal business partners but a huge regional powerhouse in the Lake Management Industry. Aquatic Control has six locations; Seymour, Valparaiso and Evansville, Indiana, Elizabethtown, Kentucky, Truesdale, Missouri and Memphis, Tennessee. They have an expansive dealer network, which spans most of the Midwest! They are a full-service lake manager and boast six Otterbine service locations.
Aquatic Control was started by Bob Johnson in the '70's when Lake Management was a fledgling industry. Bob's son Matt is the current president of the company. Past President Dave Isaacs is a member of the Otterbine Hall of Fame. Aquatic Control and Future Horizons of Hastings, Florida were the first two Lake Management companies to distribute the Otterbine product (coming on board in 1981). Both companies and their dedicated team members have been fantastic partners and instrumental in helping make Otterbine the company that it is today.
Last fall VP Casey Reed traveled to the Otterbine facility and made an insightful presentation discussing how Otterbine can better answer the needs of the market. Matt Johnson has taught an algae identification class to our sales team. Frankly, the closer we get to the customer and installer the better we serve the industry. Aquatic Control has been a great partner in that aspect.
Over the years they have developed an impressive customer list including some heavyweights like Larry Bird and Jim Irsay, owner of the Colts. They pioneered building the developer- Home Owner's Association aeration market in the region.
Join us in congratulating Aquatic Control, one of our oldest and finest distributors. Salute!
Ready to learn more?
Find out how an energy efficient aeration system from Otterbine can provide natural and effective water quality solutions. Talk to us about your commercial needs.