Articles and Press
Otterbine Releases Fountain Kit Directly to Consumer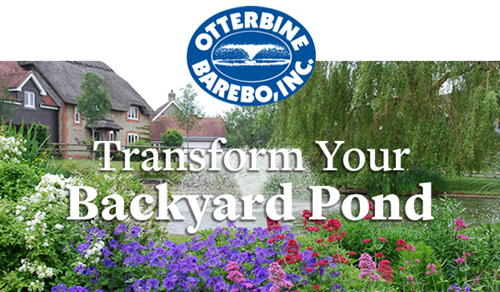 Otterbine Releases Fountain Kit Directly to Consumers
Company is offering discount code to celebrate holidays and release of DTC product
EMMAUS, PA — Family-owned and operated aerator and fountain manufacturer, Otterbine Barebo, Inc., is excited to announce the launch of its Small Pond Kits directly to consumers for the first time. To celebrate the occasion and upcoming holiday season, the company is pleased to offer a 10% discount on the product line.
"We've teamed up with Otterbine Service Centers to be able to take this product directly to consumers while maintaining our impeccable service standards," Otterbine President Carla Ott said.
The Deluxe Small Pond Package includes five spray patterns, RGBW lights, and a quick disconnect for cables. With energy-efficient aeration, this package boosts the pond's health while also improving aesthetics. Other features of the Deluxe Small Pond Package include:
Operates in depths as shallow as 16"
A mini power control center with light and unit timer
Ground Fault Circuit Interrupter (GFCI) Protection
Safety Tested and Approved by ETL and ETL-C
"We made this unit as user-friendly as possible," explained Ott. "Everything from the lights to the timer and control panel is simple to use and long-lasting. By purchasing this Deluxe Small Pond Package, you'll be able to transform your backyard pond into a beautiful oasis!"
The 10% discount code, "THANKFUL", will be available from November 25th to Jan 2nd.
To view Otterbine's Fountain Kits, visit: https://otterbine-pond-fountains-and-aerators.myshopify.com/.
To learn more about Otterbine's aerators and fountains, visit https://www.otterbine.com/.
Otterbine Barebo, Inc. has been setting industry standards in water quality management for over 60 years by combining both function and beauty with its extensive line of surface aerators, subsurface aerators, fountain lighting, and giant fountains.
# # #
                          
                          
BUY NOW
Visit Otterbine's official e-commerce store to purchase a unit for your pond today!