"Picture-It" with an Otterbine
What Would an Otterbine Look Like in Your Pond?
Find Out! Check out our online app and see how we can enhance the beauty and health of your water feature!
Jump Right In!
If you're looking to jump right in and get started here's the link to our app "Picture-It"! 
Below we've got step-by-step instructions on how to use the application. Depending on the image you upload things may get a little wonky from time to time. If you're experiencing any problems we've got you covered with some troubleshooting tips!   
Simple to Use!
In just 4-steps you can see what any Otterbine pattern would look like on your water feature.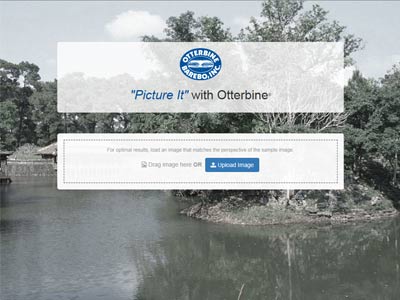 Upload Photo: Upload a Photo of your Pond or Lake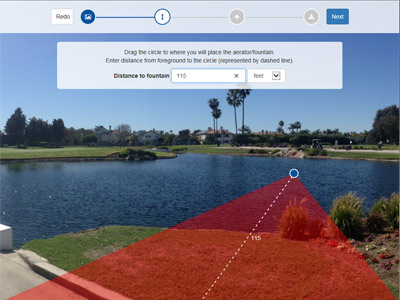 Set Scale: Drag circle to desired placed, establish distance from foreground to circle.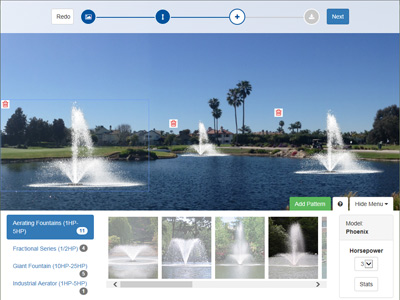 Select & Place Pattern(s): Change pattern by scrolling through and selecting desired Product Line > Pattern from the lower toolbar. Reposition as needed, pattern will scale accordingly. Add additional patterns if desired.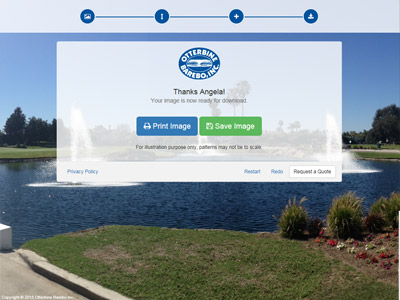 Print or Download Image: Fill out some quick info for us and you'll be able to download your image! 


Having Difficulty?
Here are some troubleshooting tips that may help:
Pattern not Laying on Photo Correctly:

 

Upload photos that are from a shoreline perspective, aerial photos or those taken at different elevations from the water feature will not work well.
Top and bottom of photo is being cut-off:

 

The app is designed to take the image and fill the width of the browser window, when being used on a widescreen monitors/windows the bottom and top part of the photo uploaded will not be cut-off.Try re-sizing the browser window of the app to be similar in size ratio to that of the photo uploaded, and Redo Scale.
ENTER TO WIN an Otterbine All-in-One Fractional Aerating Fountain!
Create a "Picture-it" Perfect Pond and Upload Your Before & After Pictures on Facebook, Twitter, or Instagram and Be Automatically Entered to Win!!
Winners will be contacted directly and announced on Social Media. Limited Time Only!