Frequently Asked Questions
What is aeration? How do I pick what's right for me? Find answers to these questions and more! Check out some of the most commonly asked questions we receive, don't see an answer here? Chat with us Live, or Contact us and we will be more than happy to help!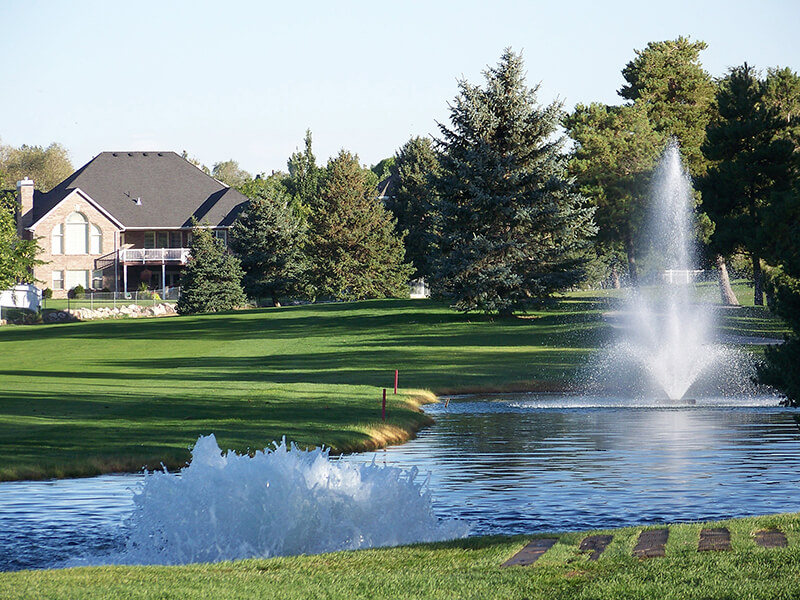 What is the difference between an aerator and fountain?
An aerator adds oxygen and induces circulation into the pond or lake for water quality management purposes; while a fountain is designed to throw water into the air to create an attractive pattern. In other words, aerators pump high volumes of water at low pressure, while fountains pump low volumes of water at low pressure. (Imagine a garden hose with the water on and nothing attached to the end (high volume, low pressure), now place your thumb over the end, (low volume, high pressure.)
Want the look of a fountain, but the benefits of an aerator? Look at our Aerating Fountain line for your options.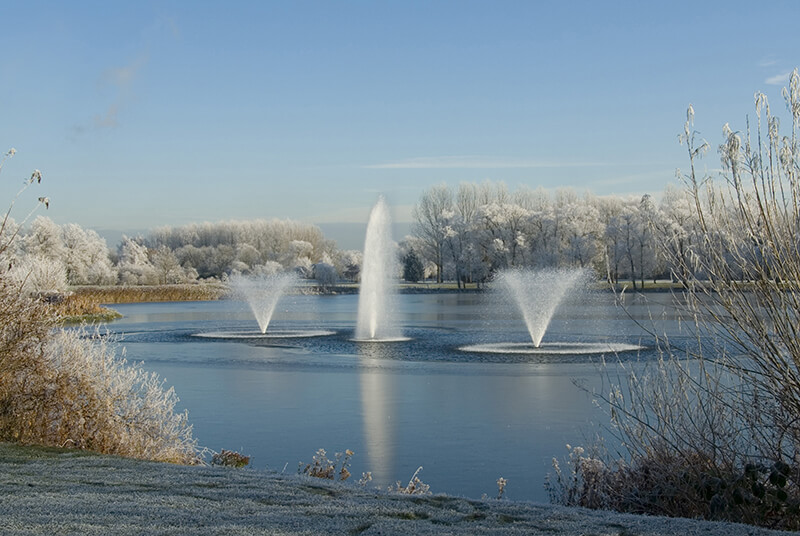 What is pond aeration?
Pond aeration is the introduction, circulation and mixing of oxygen into the water column. Pond aerators are able to de-stratify the pond layers and increase oxygen levels in the water column. Oxygen promotes aerobic (active) consumption of excess nutrients that can cause excessive algae, odors, and potentially lead to fish kills.
Otterbine systems are proven to offer the highest oxygen transfer and pumping rates in the industry, want to see the science? Check our our Performance Results!
How often do I need to run my aerator?
It is recommended that the aerator is run 24/7 for optimal aeration benefits. If you need to restrict running time, be to run the aerator run at night during the dark phase of photosynthesis, this is when aquatic vegetation reproduces the most.
Recommended Hours of Operation
Aesthetic Purposes: Customer Preference
Average Lake Management: 12-16hrs/day
Severe Lake Management: 24hrs/day
Interested in learning more about water quality management? Get more information here.
Can I run my aerator in the winter (freezing temperatures)?
Particular systems can be used for de-icing purposes such as keeping docks open, deterring hazardous activities, or supporting fish and waterfowl. Otterbine systems that can can remain in the water if run 24/7 include: High Volume, Sunburst, Gemini, Saturn, Mixer, Air Flo, and Fractional Series Gemini & High Volume.
Click here for additional Winterization, Maintenance, & Storage Tips.
What size aerator/fountain system do I need?
If you are looking for aeration or water quality management benefits, Otterbine recommends 1.5HP to 2HP per surface acre. For severe aquatic management needs consider sizing up to 2HP-3HP per surface acre.
It's not rocket science, but there are some things you will want to pay attention to - visit our Sizing & Applications page to learn more.
Have Another Question?
We have an answer! One of our factory trained specialists are here to help with whatever you may need.
System selection, connecting with a local dealer - just let us know and we can help!